How many death certificates do I need?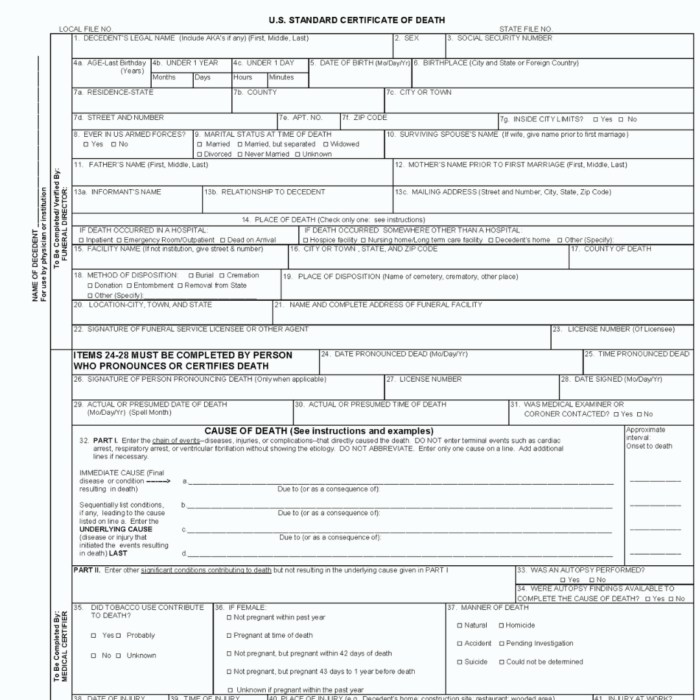 This is a question that is often asked and there are plenty of answers on the internet! Here are our two cents – from the perspective of people who have actually helped clients settle their husband's estates, retitle accounts, and reorganize their personal finances.
We say you'll need 5 death certificates if the decedent (the person who died) had a very simple financial profile, but otherwise, we suggest you get 10.
We'll explain our reasoning in a second, but first, let's quickly review what a death certificate is and how you get them.
What is a death certificate?
A death certificate is an official stamped legal document that contains information about a person's death. It's like a birth certificate, but there's more information on it. For example, Social Security number, cause of death, marital status at death, etc…)
A death certificate is issued by the state where a person died. Most often, the funeral home or crematorium that handled the remains is also who completes the death certificate and files it with the state.
Where do you get a death certificate?
Immediately following a funeral or cremation the funeral home/crematorium gives a death certificate or two to the surviving spouse or the child or relative who made the arrangements. In the first year or so, the easiest way to get death certificates is from that funeral home or crematorium.
After that, a death certificate can be requested from the state division of vital records (or similar). Do an internet search for "death certificate XX" where XX is the state where the person died. One of the first results will direct you to the official issuer of death certificates – often the Department of Health or Division of Vital Records. The website will tell you how to order official death certificates. Most states have contracted with the firm VitalCheck to process these orders online.
There is a fee for death certificates, and it is different in every state. You should expect to pay $10-50 per copy.
Now let's discuss how many you might need.
How many death certificates do you need?
As we mentioned above, how many death certificates you need depends on the complexity of the finances of the person who died. Let's start with the basics.

Do you need to file the Will and open a probate estate (either yourself or through an attorney)? The registrar of wills or probate court will want an original death certificate and they'll probably keep it in their files.

Did the decedent have life insurance? Almost all life insurance companies want an original death certificate for their records when a death benefit claim is made.

Did you notify Social Security? When a surviving spouse or dependent child claims Social Security benefits, they request a number of documents to verify identity. One of the documents they request is a death certificate.

Local banks will often only need to review an original death certificate so they can make a copy. Online banks may request an original death certificate be mailed in – or just a copy.

Investment firms, such as mutual fund accounts, brokerage accounts, retirements plans, and IRAs, usually just need a copy of the death certificate.

Did the decedent own a home (individually or jointly)? In order to remove that person from the deed or to sell the house, you'll often need to provide an original death certificate.

Did the decedent own a car or other titled vehicle? Most departments of motor vehicles will want an original death certificate, even if you trade the vehicle in via or sell it to a dealer.

Was the decedent receiving a pension – or – can the surviving spouse receive a pension? These parties often require an original death certificate.

Did the decedent have a mortgage, car loan, credit card, or other loans? Each company will want at least a copy and possibly an original.

Utility and cell phone companies will want copies of the death certificate and some will request an original.

Insurance companies (home, renters, auto, health, long-term care, etc…) will want a copy and perhaps an original death certificate.

And there are many other parties the decedent may have done business with or had accounts with that will want copies or an original. In our experience, there's no rhyme or reason to who wants an original and who is satisfied with a copy.

If the person who died was your husband or father, you may be interested to know we cover this topic and many more in The Not Just A Widow Guidebook.

You can read about all of these important tasks in The Not Just A Widow Guidebook that widow advocate Doug Robinson wrote with long-time client and widow Patty Desiderio. It's available on Amazon. Doug also specializes in helping widows understand their new reality and make educated choices as they navigate the overwhelming financial and practical matters they face.

|